Intel's Al Thompson: A Champion of Diversity and Inclusion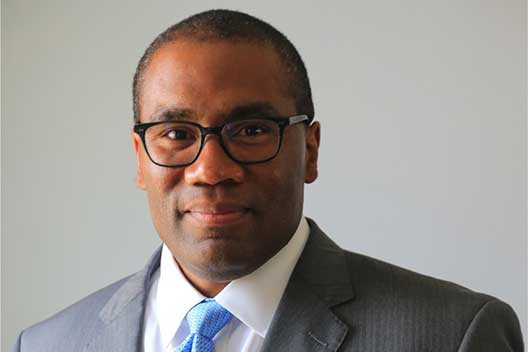 Allen Thompson, Intel's vice president of U.S. Government Affairs, credits three women for his government affairs career. "They empowered me in ways that were not always true with male bosses throughout my career," he says. "They urged me to run with things, while also teaching me the value of collaboration and unselfishness."
Working with these professional women afforded him the opportunity to observe the dynamics of what women had to cope with every day, he says. His male bosses did not always face the same challenges. "I didn't have to worry about scheduling the nanny for the kid, I didn't have to worry about appearance."
Empowered
The three women who have been Thompson's most important mentors are Lori Denham, Kelly Bingel, and Libby Coffin. "Lori saw the promise in me and gave me my first job on the Hill. Kelly brought me to Mehlman Castagnetti, the lobbying firm in which I further advanced my career. Libby started my corporate lobbying career."
Their example is something Thompson has never forgotten. "I've always been grateful. So, as a leader, one of the things I've done is to try to return the favor…I think all but one of my direct reports are women." Thompson is responsible for the company's governmental relations effort at the state and federal levels.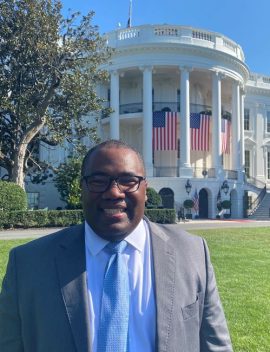 He is hopeful Congress will pass a $52 billion Chips Act, which is working its way through both houses. The package is designed to increase the nation's competitiveness against foreign manufacturers and ensure a steady supply of semiconductors. Intel has committed $23.5 billion to expand manufacturing in Arizona and New Mexico. It also announced an additional $20 billion to build new semiconductor factories in Ohio. The move will be Intel's first to a new state for a manufacturing site in 40 years. (Editor's Note: On Aug. 9, 2022, President Joe Biden signed into law a legislative package that includes the CHIPS Act of 2022, which includes historic funding for domestic semiconductor manufacturing as well as support for other essential priorities for Ohio's economy.)
"The beauty of that is, if you look at policies in relation to the supply chain, it gives the government an opportunity to advocate for companies like Intel," he says. The United States used to lead the world in global semiconductor manufacturing. But in the last 30 years, America's share of global semiconductor production declined from 37 percent to 12 percent.
Semiconductor chips, which act as the brains of computers, are critical to a wide range of sectors and products, including cars and medical equipment. The nation's chip supply chain has been disrupted due to increased demand and disruptions in manufacturing during the pandemic. Thompson is optimistic about the proposed legislation's benefits. This bill and other initiatives will help Intel increase partnerships with minority-serving institutions, historically Black colleges and universities, women-owned businesses, veteran-owned businesses, and for people with disabilities.
Appreciating Diversity
Thompson, who lives with his three children in Maryland, served five years in the Coast Guard and spent a few years at sea after receiving his degree. He received numerous military and civilian awards and holds a Bachelor of Science degree in government from the U.S. Coast Guard Academy. He studied at George Washington University and earned a Master of Arts in legislative affairs. Thompson's time in the Coast Guard in the 1990s informed his view on gender equity. "I had the unique privilege of serving in the Coast Guard. When I served, it was the only military service with no gender restrictions," he says. "If you wanted to fly planes, drive ships, rescue people out of the water, it didn't matter if you were black, white, male, or female. Now, it doesn't matter if you're LGBT – you can go do that work. We had women serving as commanding officers, pilots, and on-scene commanders for oil spills, as well as every other type of position."
"I saw firsthand that women could do anything that men could do…It made it clear to me that concerns about women in the service were deeply misplaced. That was profound for me." His time in the Coast Guard also taught him the value of recognizing and appreciating diverse backgrounds and perspectives. "We have different experiences. If you bring that experience together, you can really achieve amazing things."
The Glass Ceiling Report
Intel is the Platinum Sponsor of Women In Technology International's initiative to create a Glass Ceiling 2.0 report. Founded in 1989, WITI is the leading organization for the advancement and inclusion of women in business and technology. The findings in this new report will update and expand on the work of the 1995 Federal Glass Ceiling Commission. The report aimed to uncover institutional biases and systemic barriers that impede women and underrepresented minorities from advancing to senior positions.
"The original Glass Ceiling report was critical for understanding the role of women in corporate America and some of the barriers to their full and equal participation in that world," Thompson says. "The new report should help us understand both the progress that has been made and the barriers that continue to persist. You can't solve problems without data." Thompson adds: "When we see what the study tells us, we will ensure we're taking those recommendations and solutions and incorporating them into our plans."
The Glass Ceiling 2.0 report focuses on the economic consequences of workplace inequities in the tech sector. It will also prescribe steps for organizational improvements.
WITI, Intel, and other corporate partners hope the report will provide data – benchmarks, standards, and certifications – that will lead to change. Thompson anticipates the Glass Ceiling 2.0 Report will play a "huge role" in helping Intel to reach its diversity goals by the end of the decade. "We're grateful for this opportunity." He is committed to increasing access to tech for all populations.
"A lot of communities still don't have access to technology. That's why I think there's an opportunity, but again, it's going to take a concerted effort." Thompson points to his own background and upbringing. "As an African American, my experience in life has shown the benefits of having a diversity of thought and experience, and culture. I was one of the few African Americans in my school, in my class, and on my sports teams. I've seen the power of what exposure does for people." Growing up as he did, he says, "exposed me to a whole bunch of different things that I now enjoy, by living in diverse neighborhoods or settings, I got to learn a lot culturally."
Before joining Intel in 2000, Thompson was Executive Director of Government Relations at Raytheon Technologies Inc., where he worked for six years. He headed their government relations team for the commercial aerospace and space businesses. He also led their state government relations efforts. Thompson has also worked at the lobbying firm of Mehlman, Vogel, Castagnetti where he developed and executed advocacy strategies for Fortune 500 companies. He served as Deputy Executive Director of the Technology CEO Council, advising members about public policy. He was also vice president of global supply chain policy at the Retail Industry Leaders Association, representing Wal-Mart, Target, Lowe's, Home Depot, Best Buy, and Costco. Thompson was a senior professional staff member on the Committee on Homeland Security for Chairman Bennie G. Thompson (D-Miss.).
Diversity Goals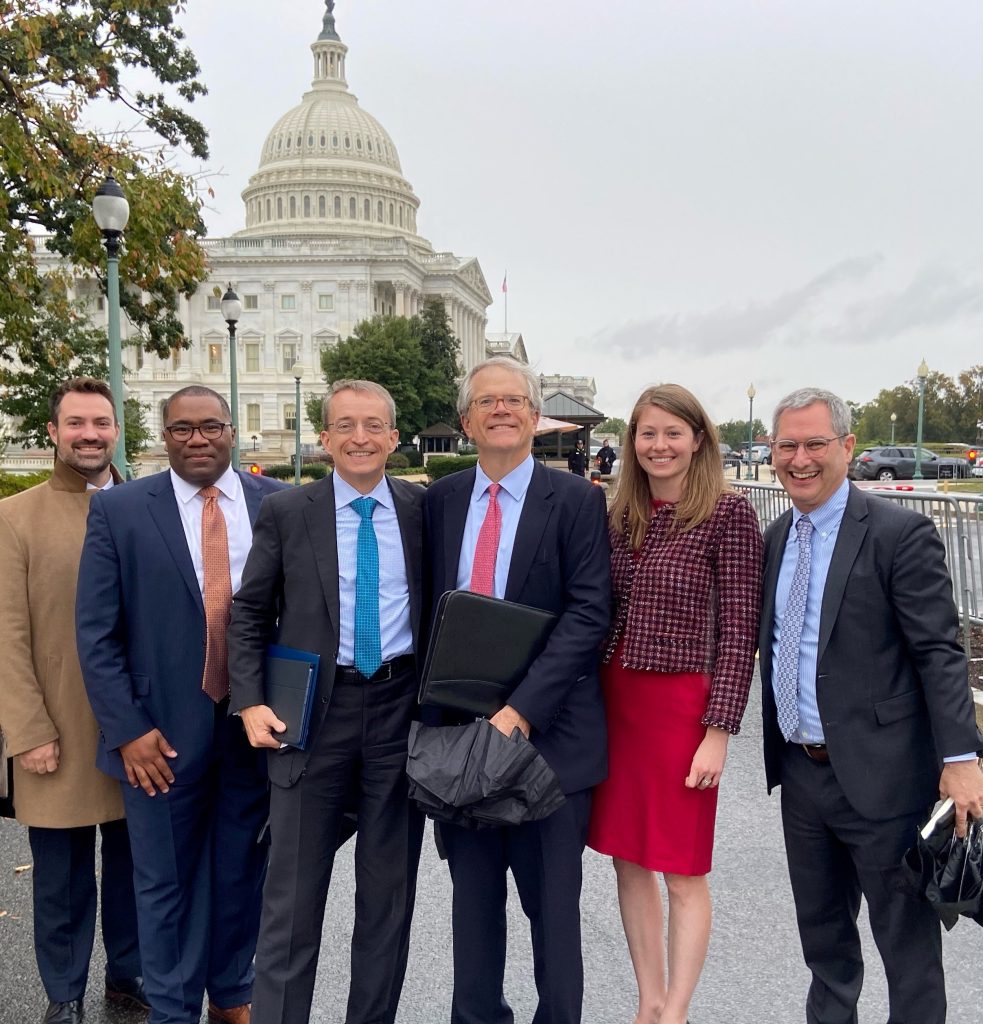 Intel's main goals for diversity and inclusion are threefold, Thompson says.
– Double the number of women and underrepresented minorities in senior leadership roles.
– Achieve and exceed 40 percent representation of women in technical positions.
– Double global annual spending with diverse suppliers.
The company plans to meet these targets by 2030, Thompson says.
"One of the things that I love about Intel is our company's values. And inclusion is one of them. We have very distinct goals related to where we want to be as a company by the end of this decade that are focused on diversity and inclusion," he says. For example, as part of Intel's effort to increase the number of women in technical roles, it has partnered with community colleges in areas where it operates to prepare individuals for technician roles at the company.
"Recently, we supercharged those efforts," he says. Intel has announced a $100 million partnership with the National Science Foundation to expand educational and workforce development programs to more two and four-year institutions in the country. It is also piloting accelerated technician training programs with community colleges and workforce development groups in Arizona and Oregon.
Thompson's advice for those looking to work in the technology sector? "Never be afraid to ask for help," he says. "It doesn't matter if the opportunity is in engineering, finance, legal, or government affairs, the tech sector holds lots of promise and provides a great opportunity to do good in the world. Build as big a network as you can."
Editor's Note: For further information, see Al Thompson's Blog
Interview conducted December 2021